Learn more about our integration with RMIS and how the software works with your Rose Rocket instance.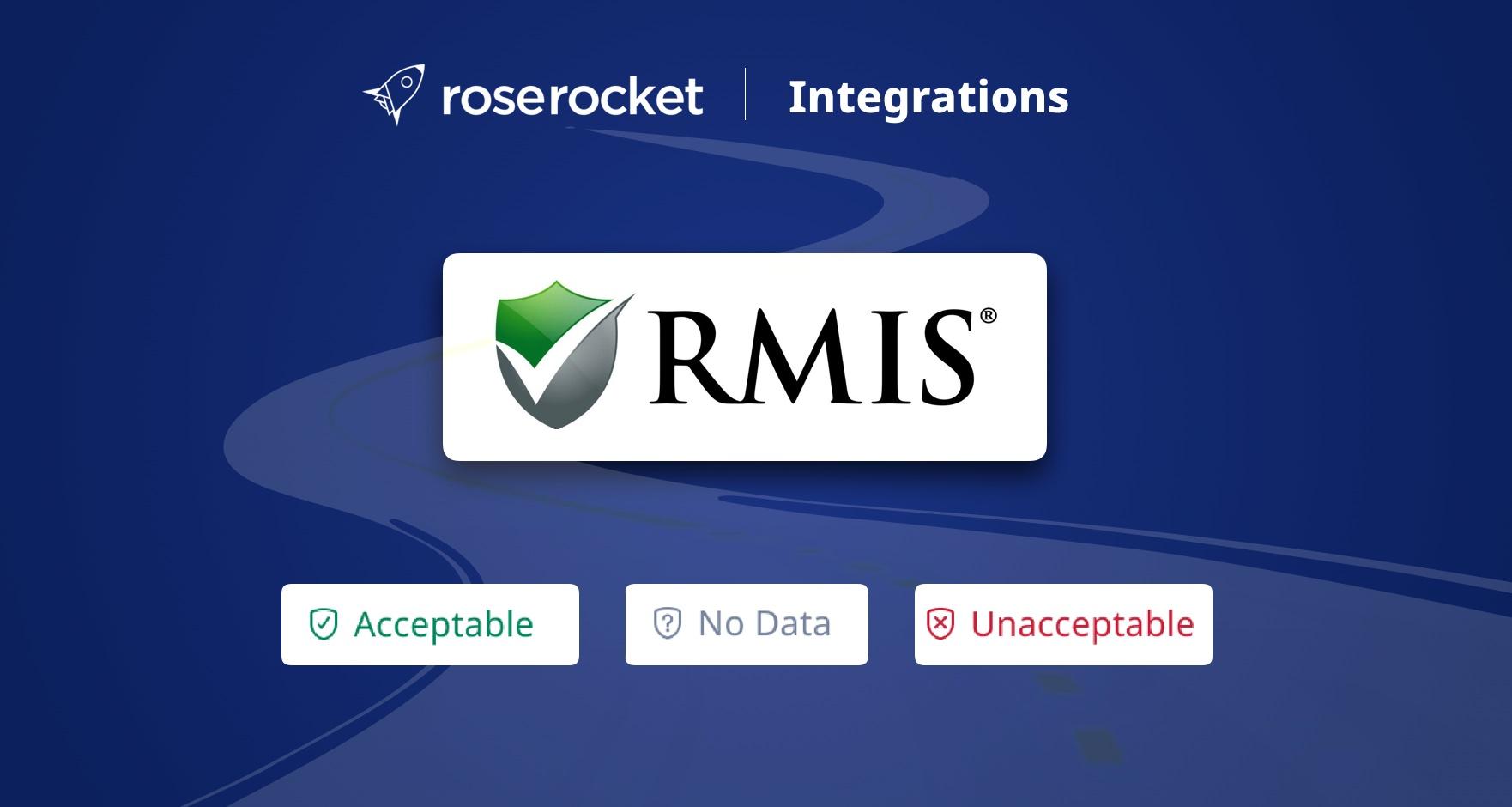 Rose Rocket is now integrated with carrier compliance and monitoring platform Registry Monitoring Insurance Services (RMIS).
This integration maps RMIS' compliance data to each of your carrier profiles in Rose Rocket to ensure quality carrier selection when dispatching orders.
Benefits of this integration:
No double entry- sync carrier information directly from RMIS.
See which carriers meet the compliance standards of your business upfront.
Keep track of all compliance details and documents by having them stored right into your TMS.
Always have the most up-to-date information with daily updates of RMIS carrier data into Rose Rocket.
RMIS Subscriptions
Connect Rose Rocket and RMIS for free with an existing subscription. This integration supports RMIS's Monitoring Only and CRS+ subscription tiers using your RMIS API key. We strongly recommend the RMIS CRS+ subscription tier to make the most out of this integration.
Setting it Up
Admin users can enable the RMIS integration on the Integrations page by selecting the RMIS tile. From here, simply add the following RMIS API credentials: domain, client ID, and password. If you do not know your API credentials please contact your RMIS account manager.
Once enabled, it's time to start syncing your partner carrier data.
Connecting a Carrier
Admin users can create and update carriers in Rose Rocket simply by adding the DOT ID or MC ID numbers. When a valid ID is added, the carrier compliance information and business address are pulled from RMIS and added to the carrier profile in Rose Rocket.
Carriers can be added manually or in bulk as usual. To upload profiles in bulk, download your list of carriers from RMIS and upload them using the carriers CSV template. For bulk imports of more than 100 carrier profiles, please contact your RMIS representative a day in advance to increase your API threshold.
On the Carriers page, go to the carrier profile and open the Compliance tab. Here, you can see the compliance data pulled directly from RMIS and upload files that can be downloaded later in time.
Coverage Types
Coverage types are stored in the Compliance tab of a carrier profile and broken down by the following insurance types:
Auto
Cargo
Liability
Workers Compensation
If a carrier has more than one coverage for the same insurance type, Rose Rocket will pull the coverage with the latest expiration date from RMIS.
How it Works
When searching for partner carriers to work with, you need clear insight into the qualifications that matter to your business. Now, you can easily assess carriers and determine which are acceptable to move your freight as you dispatch orders.
Finding a Partner Carrier
When searching for a carrier in Rose Rocket, you will now see compliance risk indicators in a simple red or green assessment. Carrier profiles without compliance information will be indicated in grey.
With RMIS data mapped to each of your carrier profiles, you can assess partners at-a-glance before assigning them to move your freight.
Manifest Details
Carrier compliance details can also be found on the Manifest a partner carrier is assigned to.
In the Resources card, when View Details is selected inside the Manifest details, you are directed to the RMIS website where the full carrier compliance details can be found.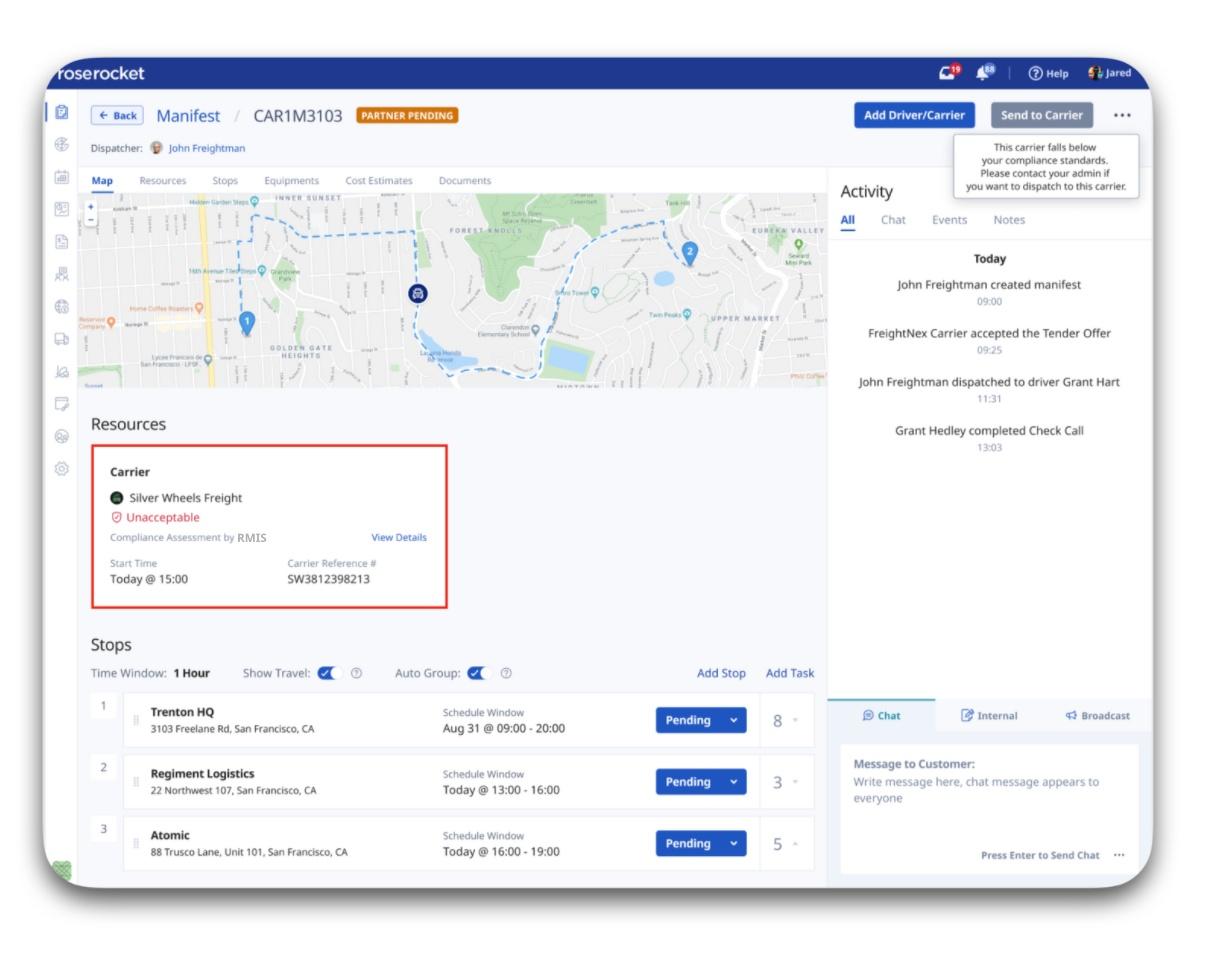 Extended Carrier Details
Rose Rocket stores extended carrier details directly in each carrier profile, so your team can keep track of important compliance information from a single place.
To view additional information related to your partner carrier's RMIS profile, go to the Carriers page, select your carrier profile and open the Information tab.
If you are using the monitoring only subscription, you will see:
Carrier risk indicator
Safety Rating
Pay to Factoring Company
Authority Rating
If you are using a CRS+ subscription, you will see:
Carrier risk indicator
Safety Rating
Pay to Factoring Company
Authority Rating
Certifications
W9
Equipment Info
Insurance Alerts
You will automatically be notified when a partner carrier's insurance information is about to expire. This ensures coverage is always up-to-date with regulatory filings done with FMCSA or DOT.
If a manifest is assigned to a carrier with an upcoming insurance expiry, you will be notified with a warning message indicating the expiration details.
Automatic Updates
We are giving you back the time spent on manually updating compliance information and documents by automatically syncing changes made to a carrier on RMIS.
At approximately midnight ET each day, Rose Rocket will update all carriers in your organization with the most recent RMIS details, ensuring you are always referencing the most up-to-date information when choosing a partner carrier.
Ready to get started?