Order Counter is available for Rose Rocket accounts on the Module Based Plan.
Keep track of your account's order volume using the new Order Counter. See how many orders you have left and add more to your plan when you're running low right from inside the product.
Table of Contents
Calculating Orders In Rose Rocket
An order counts towards your plan volume once it has been dispatched, meaning the order is in 'Booked' status and has been sent to the assigned driver or carrier.
Note:
Canceled and deleted orders that have gone through the dispatched phase are considered "spent."
Tracking Order Volume In My Account
Order Counter is at the top navigation bar of your account, where you can track the number of orders you have left on your plan.
If your account is approaching its order limit, we'll show a message in-app letting you know when 75%, 90%, and 100% of the plan's volume has been reached.
Non-buyer admin will have the following view informing them to contact their admin: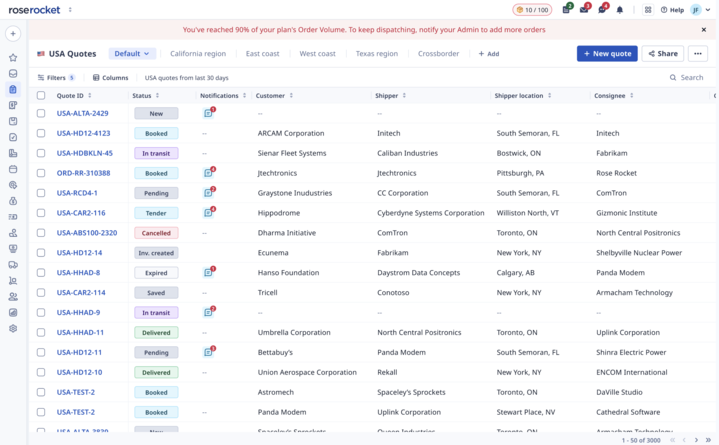 Buyer-admin will have the following view providing them the option to add more orders to the account: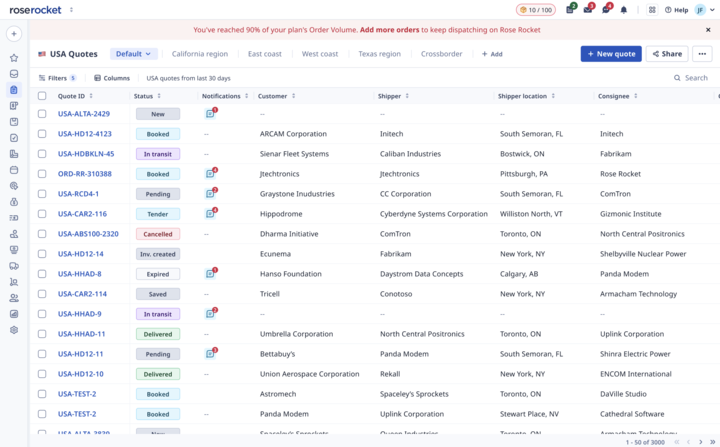 Warning:
Unused orders do not roll over.
Running Out Of Orders
Once all of the orders in your plan have been used, you will no longer be able to book and dispatch orders in Rose Rocket.
We recommend adding additional orders to your plan before your limit has been reached so you can continue working in the system as usual. Additional orders can be added to your subscription at any time by reaching out to your account manager, or the admin who signed up for the account can purchase more in-app using the 'Add More Orders' button.
Once your subscription renews monthly or annually based on your contract, order volume will refresh and be updated in your account.
Adding Orders Into My Account
Only buyer-admin can add more orders to the account. Buyer-admin is the admin user who signed up for the Rose Rocket account.
The number of orders you can access is based on your payment schedule. For example, if you purchased 6000 orders for the year, you would have access to 500 orders each month.
If orders are added mid-contract, order volume will be added in full while the cost is prorated.